Grace is the first secure parental control app with more advanced and flexible parental control features
If you are looking for a better Qustodio alternative and are willing to know the differences between Grace and Qustodio, this overview will help you make the right decision.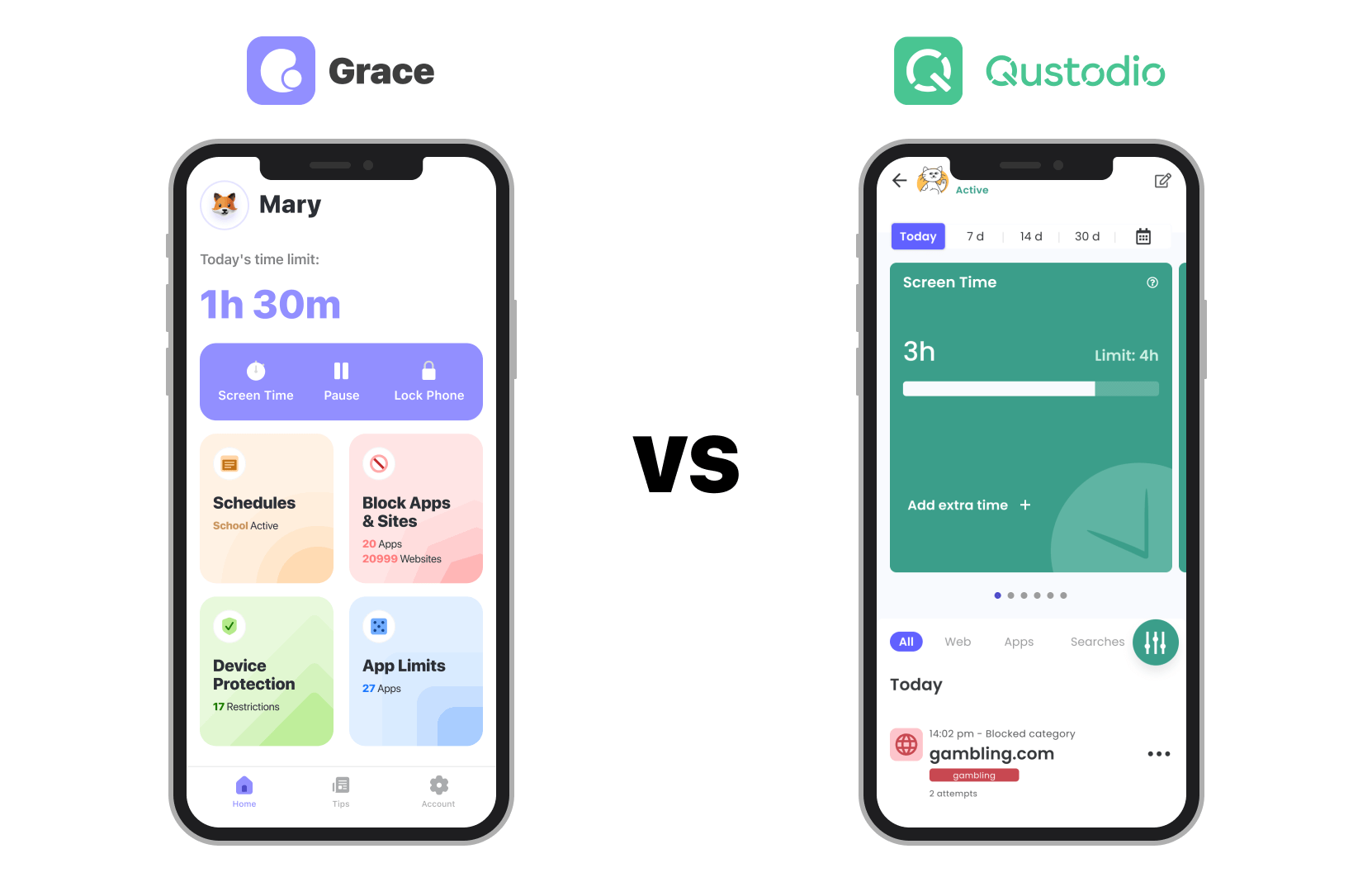 Features comparison
Protected from removal

Parent's password required to delete the app

Yes

No

No email & signup required to start using the app

Yes

No

No apps rearrangement when block mode is off

Yes

No

Easy to set up and intuitive to use

Yes

No

Block all apps

All third-party apps can be blocked

Yes

No

Secure

Can't access and see child's sensitive data

Yes

No

App Time limits

Limit the time a child can spend on a specific app or site

Yes

No

Yes

No

Yes

No

Yes

No

Block Date and Time changes

Yes

No

Pause restrictions instantly

Yes

No

Block the device instantly

Yes

No

Approve App Store purchases

Yes

No

In-app online safety tips

Yes

No
What does Grace do better?
Grace has three other essential benefits besides having more powerful features than other MDM parental control apps.
You don't have to sacrifice your child's privacy
Unlike most other apps, Grace is built on Apple's official Screen Time API. We don't use MDM and VPN profiles so that we don't invade you and your child's privacy by design. Grace operates using random tokens and IDs and has no access to your child's sensitive data.
Grace can't see:
Apps installed on the phone

Email and no other accounts
Grace is much more affordable
The old MDM solution requires a server to route the device traffic, significantly increasing costs. We operate on-device only, so you won't have to cover our extra fees.
Grace is uninstall protected
Children can't delete Grace without their parent's approval and bypass restrictions as they can do with Qustodio. So parents don't need to worry about their restrictions being ignored by kids and keeping the app functional.